The Emmy's are on tonight! Who's watchin'? Given my love of award shows, TV in general, and (the man, the myth, the legend) Stephen Colbert—the ceremony's host—I certainly will be.
But this is a blog about music, not TV! So why am I talking about the Emmy's? Well, because in the last several years, a lot of TV shows have really stepped up their game in the soundtrack department. It seems that TV soundtracks are what movie soundtracks used to be in the 80s and 90s.
When streaming services like Amazon Prime, Hulu, and Netflix started creating original content (so much of which is excellent), they really seemed to put a lot of effort into the soundtracks of their shows. It wasn't just "put my iPod on shuffle and see what tolerable music options come up." It should also be mentioned that although HBO was clearly around long before these streaming services, they really stepped up their game recently in the music department too.
Although it's fun to hear songs that I already know and love on shows, it's actually much more exciting to discover great new music from a TV show because of that cinematic element that comes along with it. The music added to a scene of a couple falling in love or a teen going through a tough, confusing time just has so much more of an impact with the right song over it. The way a song is incorporated into a particular TV show is a delicate art form (like calligraphy or making a grilled cheese sandwich), as far as I'm concerned. Also, a show with a bigger budget doesn't always equate to better music being used.
Anyway, here's the best of what I discovered in the last couple years by Shazaming songs from some of the shows I watch.
HBO's Girls
Love it or hate it—everyone has a strong opinion, that's for sure—Girls has opened my ears to a handful of great new songs. There's the infectious "Dancing On My Own" by Robyn, which quickly became a gym staple for me (gotta have something to distract me while I sweat my guts out on the Elliptical). There's also Lord Huron's "Fool For Love" in the Marnie and Desi wedding episode and Harper Simon's "Wishes and Stars" ("there are more wishes than stars" — what a line to describe millennials!) that played as the credits rolled in another episode.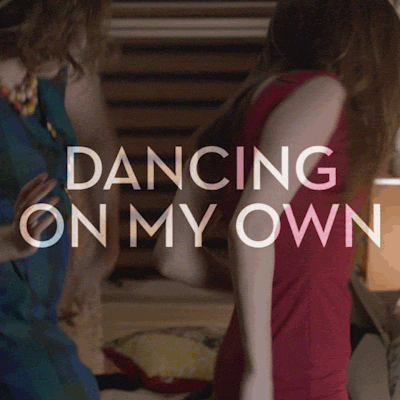 Crackle's Comedians In Cars Getting Coffee
This choice makes me a little bit of a cheater, as the song I discovered from watching this show wasn't really on the soundtrack. In fact, the show doesn't play it at all. But in the episode on which Stephen Colbert appears, he quotes "In An Airplane Over the Sea" by Neutral Milk Hotel, a band I never bothered checking into before for some reason. Colbert quoted a few lines, saying the song was one of his favorites, "Can't believe how strange it is to be anything at all." Intrigued by the line, I looked up the song. And although they aren't my New Favorite Band, this song in particular (as well as "Holland, 1945") is one of my favorites. Excellent job, Stephen. Way to be an influencer!
Netflix's Flaked
Ok, so this show was only ok. (I still love you though, Will Arnett!) But the soundtrack… the soundtrack was AMAZING. It was subtle and cool, featuring music from Kurt Vile, Youth Lagoon, and EL VY. (If this soundtrack were a single guy, I'd be streaking around his front yard throwing rose petals and declaring my undying love to him.) While these particular artists were already familiar to me, there were plenty of musicians on the soundtrack who were  completely new. I'd heard the name Car Seat Headrest before, but never looked into them. (The band name sounded pretty stupid to me. Still does.) The show incorporated the song "Something Soon" into one of their episodes and by about 5 seconds in, I was up off the couch, with my Shazam app open in front of the TV, trying tofigure out who this was. Imagine my surprise to find such great music from such a dumb-sounding band. And the rest of my love affair with this band is history! MARRY ME.
HBO's Togetherness
The Duplass Brothers still have yet to create a TV show or movie that I don't like (though parts of Room 104 did kind of make me pee my pants a little—eek!). Their show Togetherness was something special and it's cancellation last year was upsetting to me. All that aside though, one of the things that really impressed me with this show was the songs they chose to incorporate into each episode and how greatly the songs enhanced the overall feel of the show. They didn't just include a popular song because they could maybe afford to do so (I'm lookin' at you, Vinyl. We get it, you could afford the rights to "Under My Thumb"—big wow). On Togetherness they seemed to dig deep in their music vault to find odd, unknown tunes that would complement the visuals and emotions perfectly. From this show I learned of the beautiful love song "Downtown" by Majical Cloudz ("Is it really this fun when you're on my mind? / Is it really this cool to be in your life?")
Hulu's Difficult People
This is not exactly a show I tune into regularly to see what music they've included. I tune in because Billy Eichner and Julie Klausner are my spirit animals. ("Tourism Connecticut has commissioned a list of the nine most disgusting things in New York City—go." "Hot dog water." "Mario Batali's scooter seat.")
I do really enjoy the song that plays during the end credits though: "Half Bad" by White Reaper. Again, when I first heard this song, I had no idea what it was, but needed to know, so I Shazamed it. Thank you, magic app! 
Amazon Prime's One Mississippi
Tig Notaro's show is also not a place I thought I'd go to for great new music. But… here you have it. "Dreams" by Taken By Trees, which played as the credits rolled in a recent Season 2 episode, is my most recent TV soundtrack "discovery." Etherial female vocals mix with cool, laid-back (just like Tig herself) beats and electronic sounds on this catchy, yet delicate song. What else ya got for us, Tig? Keep 'em comin'!
Hulu's Casual
Casual is also an excellent destination for great tunes. The War on Drugs, Dr. Dog, and Wolf Parade all made perfectly placed appearances. I also came to discover "QB Sneak" by the Brooklyn-based band Active Bird Community from this show. The song, which reminds me of something Phantom Planet may have recorded back in the day, is a real pop-rock gem with a hooky chorus. Check it out and dance yourself silly!